Andrew Pike Interiors Inc. has had a long and successful relationship with multiple builders and developers in the Greater Toronto Area. We welcome the opportunity to help them realize their dreams of not only building homes, but creating lifestyles. From inception to completion, we work with them on each and every detail to ensure the product is not only on trend, but also inspiring buyers. From working with architectural drawings to recommending plan changes, to the final installation where every tiny detail is attended to,  Andrew  Pike Interiors Inc. prides itself on creating model homes that make the client stand out from the crowd.
The Cavendish model at Wyndance
Empire Communities
Located just northeast of Toronto amid the rolling fields of Uxbridge, Wyndance is a collection of luxury homes in a gated community. Situated on an 18-hole golf course, large lots provide an estate-like feel while manicured grounds and an abundance of amenities make the entire enclave feel welcoming and inviting. The Cavendish model exemplifies the Wyndance experience, which is the perfect blend of formality and casual elegance. Fully finished over three levels, this 6000-square-foot home offers every modern convenience and a wealth of upgrades. Marble and mosaics bend seamlessly with hardwood flooring, and oversized doors and high ceilings contribute to the feeling of loftiness. The two-storey great room is the epitome of grandeur and the spacious rooms flow seamlessly from one to the other. From the custom kitchen and bathrooms to the soft and layered furniture design, every detail has been attended to.
Sunday School Lofts


37th BILD Award Winner (Best Model Suite)
GRID Developments
Situated in a historic church in downtown Toronto, The Sunday School Lofts is a unique blend of vintage character and modern design. A boutique collection of 32 units, this development incorporates original details with contemporary finishes to create refined living spaces with a nod to the past. In a dramatic twist, this model suite was built inside the former nave of the church, very much a house within a house. Clean lined kitchen and baths feel spacious and current, while oversized sliding glass doors provide the opportunity to open the second bedroom to the main space. The light oak doors and coordinating crown moulding are a unique touch, while the injection of dark iron and oil rubbed bronze metals paired with aged tan leather accents gives the overall condo a curated feel. Graphic artwork and geometric accessories finish the space and allow the client to imagine themselves in their own personal suite, surrounded by a lifetime of collected treasures and modern luxuries.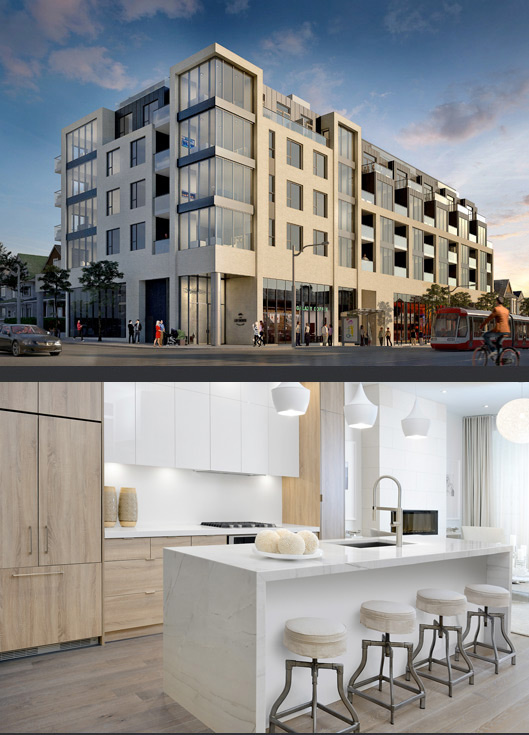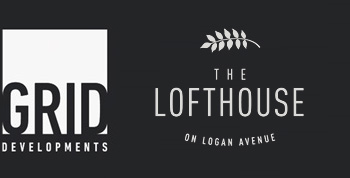 The Lofthouse
GRID Developments
Located where Riverdale meets Leslieville in downtown Toronto, this low rise condo development of 58 spacious suites  combines urban design with luxury finishes. Ten-foot ceilings are part of what gives the project its name, and full height windows offer an abundance of natural light. This model condo suite shows how thoughtful design can perfectly complement a brilliant layout. A walk through closet into the master ensuite is a novel touch. The ten-foot stone fireplace is unexpected and yet perfectly at home in the living area. Gently distressed flooring and millwork create a casually elegant backdrop to the layers of neutral fabrics and wall coverings found throughout. Enjoy the mix of casual and formal furnishings and the dynamic tension they create. Each and every element combines to create a soothing and tranquil environment, a place that immediately feels like home.